#4500 Slobber Straps 
These slobber straps are made from top quality 9/10 oz. weight leather in a straight cut design. Our straps come with Chicago screws to hold them in the proper place on the snaffle bit.  These are very functional and have a distinctive look.  The straps measure 1 1/4″ x 11″.  Available in Golden Colored (natural) or Dark Burgundy.
---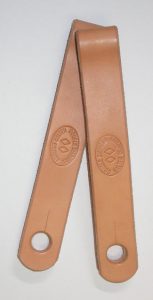 #4506 Slobber Strap
These slobber straps are straight cut with natural edges and are shorter than the #4500 slobber straps.  They are made out of 10/11 oz. skirting leather and measure 1 1/4″ wide and 8″ long.  They feature a molded groove at the fold to hold the bit.  Part of the Buck Brannaman Collection.