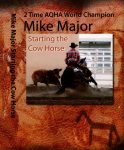 Starting The Cow Horse  DVD 
Mike Major, 2009 and 2010  AQHA Versatility Ranch Horse World Champion, breaks down the basics of how to build a cow work foundation on your horse, focusing on control, starting on cattle, patterning, connecting, mirroring, boxing and fencing. Mike demonstrates mostly on colts, but the concepts apply to any horse starting in cow work. This DVD, the first in a series on ranch-horse versatility, follows a natural progression in laying a solid foundation for cow work success. 50 plus minutes.
---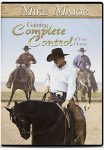 Gaining Complete Control of Your Horse -DVD Set
This 3 DVD set contains all three DVDs listed above and combines all of the steps Mike uses in building the foundation necessary to progressin any training situation and to perform advanced maneuvers.
---
Western Horseman Ranch Horse Versatility – Book
A rancher by profession and a competitor by choice, multiple World Champion Mike Major, is uniquely qualified to provide a road map to success in Ranch-Horse competition. With chapters covering Ranch-Horse Conformation, Ranch Trail, Cattle Handling, Roping and Ranch Cutting among others, this book can help improve anyone's skill level, whether you compete or just want a more responsive mount. Filled with more than 175 color photos and illustrations, Ranch-Horse Versatility is truly "A Winner's Guide to Successful Rides". 224 pages.