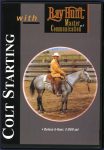 Colt Starting
More than 5 hours of hands – on instruction contained on 2 DVDs . These DVDs contain material and instruction rarely seen by any but Ray's personal friends. Here Ray works with colts at a depth not often seen in any horse training videotape. An important and unusual aspect of this video series is that it is presented almost in real time. Instead of just showing "before" and "after", what you see is what actually happened.
---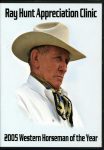 Ray Hunt Appreciation Clinic
Filmed at the  Fort Worth Stockyards in 2005.  Riders and spectators came from all over the globe to pay tribute to the legendary horseman Ray Hunt, the 2005 Western Horseman of the Year. Contents: Over 8 hours on 2 DVDs
---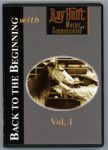 Back to the Beginning
In this 90 minute DVD, Ray starts two colts from the ground at two clinics in California in the 1980s.  For those of you have never seen Ray work colts afoot this DVD will show you all the preparation necessary to get colts ready to saddle and ride. You will get a good explanation of what Ray is looking for in the colts as well as his presentation, the change in the colt's attitude and their reactions to Ray's movements.